May 9, 2022
Meeting President Biden's goal of 100 percent connectivity is not just a deployment challenge, but equally an issue of ensuring all Americans can afford access to high-speed broadband. Here there is good news: despite inflationary pressure throughout our economy, broadband prices are holding steady and even declining – for entry level offerings and gigabit connections alike.
Still, for many low-income households, broadband remains beyond their reach.
Thankfully, help is on the way. In November 2021, President Biden signed into law the Infrastructure Investment & Jobs Act (IIJA), setting aside an historic $65 billion for broadband deployment and affordability – including $14.2 billion for the Affordable Connectivity Program (ACP). Just like food and housing assistance, low-income households now are eligible for assistance with their broadband bills through the ACP, which supplements the many existing targeted industry programs designed to connect low-income consumers.

The Federal Communications Commission launched the Affordability Connectivity Program in April 2022. The program provides eligible households with a discount up to $30 per month ($75 on qualifying Tribal lands) for high-speed internet service. As of May, 2022, there are 11.5 million (and counting) households enrolled and more than 1,000 broadband providers partnering in the broadband affordability program.
Participation in the ACP is only one of the many things USTelecom members are doing to address affordability and digital equity challenges. Many of our members took part in the Emergency Broadband Benefit, which provided similar connectivity assistance in the early days of the pandemic.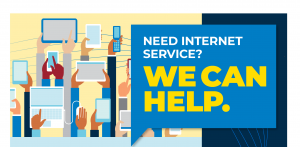 Some examples of USTelecom member digital equity efforts include:
Competition Driving Broadband Prices Down, Even in the Face of Economy-wide Inflation
Competition is driving today's broadband market and consumers are paying less for stronger broadband as a result. This is in clear contrast to the rising average cost of goods and services across the broader economy (think automobiles, food, gasoline, healthcare, rent, energy and childcare). The Labor Department reported consumer prices climbed 7.5 percent over the last year, the steepest year-over-year increase since February 1982. In 2021, the cost of meats, poultry, fish, and eggs increased by over 12 percent, furniture by nearly 14 percent, and the average price of used cars and trucks by 37 percent.
Broadband prices however? According to the Bureau of Labor Statistics, inflation for internet access services has been only 2.6 percent, equating to real (i.e., inflation-adjusted) price changes of -4.1 percent for internet access.
Internet prices are falling even as the speeds and capabilities of the networks continue to advance. According to the 2021 Broadband Pricing Index Report, the most popular tier of broadband service costs 7.5 percent less in 2021 when compared to 2020 – continuing a downward pricing trend that began in 2015.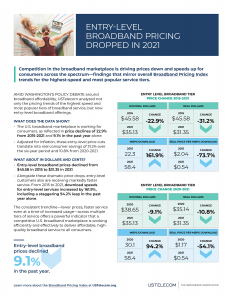 Entry-level price cuts are also alive and well:
The intensely competitive U.S. broadband marketplace is reflected in price declines of 22.9 percent from 2015-2021 and 9.1 percent in the past year alone;
Adjusted for inflation, these entry-level price cuts translate into real consumer savings of 31.2 percent over the six-year period and 10.8 percent from 2020-2021; and
From 2015 to 2021, download speeds for entry-level services increased by 161.9 percent, including a staggering 94.2 percent leap in the past year alone.
Bolstering the BPI findings, a recent study by BroadbandNow found that broadband prices at all speeds have decreased in the last five years.
Key findings:
The average price of broadband down $8.80 (14 percent) for 25 – 99 Mbps;
The average price of broadband down $32.35 (33 percent) for 100 – 199 Mbps;
The average price of broadband down $34.39 (35 percent) for 200 – 499 Mbps; and
The average price of broadband down $59.22 (42 percent) for 500+ Mbps.
The right policies to spur investment and encourage innovation in the broadband sector are already in place. Consumers in the U.S. have access to world-class connectivity and affordable, high-value service plans. Competitive forces are clearly working to drive prices down for broadband. And, the Affordable Connectivity Program is making it possible for the federal government and private broadband companies to work together to ensure access for low-income households. Now is the time to fully tackle the affordability issue for these low-income consumers through wider promotion and adoption of the ACP and continued public-private collaboration to get all Americans connected.