August 25, 2021
USTelecom's Industry Traceback Group will continue tracking, tracing and stopping illegal robocalls around the world
Working to stop flow of illegal calls; partnering with government to take enforcement actions
WASHINGTON, DC – Today, the Federal Communications Commission's (FCC) Enforcement Bureau re-designated the USTelecom-led Industry Traceback Group (ITG) as the agency's official Robocall Traceback Consortium.
The ITG will continue coordinating industry-led efforts to trace back the origin of suspected unlawful robocalls in the U.S. and around the world. The designation of an industry-led robocall consortium was a provision in the TRACED (Telephone Robocall Abuse Criminal Enforcement and Deterrence) Act.
"This is a vote of confidence from the FCC and a recognition of the value and track record the ITG brings to the robocall wars," said USTelecom President and CEO Jonathan Spalter. "No one else is doing this kind of work – tracking and tracing the scammers and spoofers polluting our communications networks to the source and getting them to shut off the flow of calls. And when that doesn't work, federal and state enforcement agencies are happy to take a look at our findings."
Over the past year, the ITG continued its impressive track record building a robocall fighting coalition and working with industry, federal, state and local law enforcement to trace illegal call campaigns. In addition to working closely with government, the ITG partners with organizations – joining forces to stop the calls that target consumers, damage their reputation and affect their bottom line.
"These are some determined criminals, but ITG is equally determined and laser-focused on fighting back. We're getting better and faster every day and helping our partners in Washington and in the states bring those responsible for illegal robocalls to justice and disrupting the campaigns ourselves," added Josh Bercu, Vice President, Policy & Advocacy at USTelecom and director of the ITG.
Industry Traceback Group 2021 highlights include:
Earlier this year, ITG released: Combatting Illegal Robocalls, a progress report on its efforts to trace illegal robocall campaigns, particularly under the radar providers who let junk calls onto the network in the first place.
Industry Traceback Group in 2020:
Initiated more than 2,500 tracebacks;
Received 75 subpoenas/civil investigative demands — up 275% from 2019;
Conducted approximately 215 tracebacks per month — up 115% from 2019 and 975% from 2018;
Supported nearly a dozen enforcement actions involving nine distinct federal and state enforcement agencies.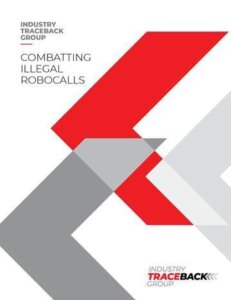 ITG Supporting Partners:
All Access

ANI Networks

AT&T

Bandwidth

Bell Canada

Brightlink

Broadband Dynamics

Business Telecommunications Services

Charter Communications

Comcast

Consolidated Communications

Cox Communications

Frontier

Full Service Network

G4

Impact Telecom

IntelePeer

Inteliquent

Landing Point Telecom

Lumen

Peerless Network

Piratel

T-Mobile

Telnet

Telnyx, LLC

ThinQ

Third Base International Telecom

Twilio

U.S. Cellular

Verizon

Voxology

West Telecom Services, LLC/Intrado

Windstream

XCast Labs

YMAX
More information on today's FCC robocall announcement is available here.
---
ABOUT THE INDUSTRY TRACEBACK GROUP
Since USTelecom established the Industry Traceback Group (ITG) in 2015, the ITG has played a central and expanding role in the battle against illegal robocalls. The ITG was designated by the Federal Communications Commission (FCC) in July 2020 as the Official Consortium for coordinating industry-led efforts to trace back the origin of suspected unlawful robocalls. Every month, the ITG conducts tracebacks of illegal robocall campaigns amounting to approximately one billion calls. More information on the ITG is available here.