October 24, 2019
The inaugural USTelecom Broadband Heroes Awards honors the following individuals making distinguished and game-changing contributions to connect communities.
2019 Broadband Heroes:
---
Senator Roger Wicker (R-MS), Chairman, U.S. Senate Committee on Commerce, Science and Transportation
Senator Roger Wicker of Mississippi, the Chairman of the Senate Commerce, Science and Transportation Committee, is a longtime champion for broadband connectivity, communications and technology policy in the U.S. Senate.
Since becoming Chairman of the Senate Commerce Committee in 2019, Senator Wicker has methodically done the hard work of legislating, bringing stakeholders and policymakers to the negotiating table to advance meaningful bipartisan legislation.
Under Senator Wicker's leadership, Congress is on the cusp of landmark legislation to stomp out illegal robocalls with critical new enforcement tools and new blocking technologies. Senator Wicker has introduced legislation directing federal agencies responsible for broadband to better coordinate and target finite federal dollars to those who need it most, and he began a fresh and overdue look at video marketplace rules. Senator Wicker has written comprehensive legislation to replace our country's outdated and inadequate broadband maps to help bridge the digital divide, and on behalf of innovators and consumers, Senator Wicker has championed the deployment of fiber infrastructure to ensure next generation technologies like 5G become a reality in Mississippi and beyond.
For his commitment to connectivity and for helping to ensure America's leadership in the global digital economy, Senator Roger Wicker of Mississippi is a 2019 USTelecom Broadband Hero.
---
Senator Kyrsten Sinema (D-AZ), U.S. Senate Committee on Commerce, Science and Transportation
Senator Kyrsten Sinema of Arizona has been a leading champion to ensure no Arizonan is left behind when it comes to our shared broadband future, sponsoring important legislation and calling on us all to raise our sights (and raise the bar) when it comes to mapping our broadband resources. Senator Sinema has also been a leader when it comes to making sure that finite federal funding is allocated to truly unserved areas of the country, including the many rural communities in Arizona.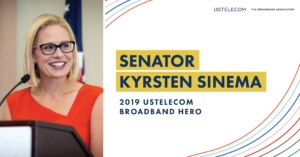 Whether helping to bring the power of broadband to Arizona's Havasupai tribe, introducing the bipartisan ACCESS Rural America Act – legislation that cuts red tape to encourage broadband infrastructure for rural and tribal communities, or her strong support for our nation's veterans, helping those living in rural areas get access to digital health options, Senator Sinema is on the barricades fighting for America's continuing broadband leadership.
Arizonans are fortunate to have the Senator Sinema in the Halls of Congress representing America's digital future.
---
Chairman Ajit Pai, Federal Communications Commission
Chairman Pai understands broadband is the 21st century's indispensable resource.
Since coming to the FCC, first as a Commissioner in 2012, and later as Chairman in 2017, Chairman Pai's philosophy has been guided by forward-looking, consumer-focused and common sense principles that prioritize innovation, investment, economic growth and job creation.
Under his leadership, Chairman Pai has proposed a comprehensive plan to promote broadband deployment to all Americans – regardless of zip code. His plan helps providers retire copper lines in favor of next-generation technologies like fiber to ensure rural Americans have the same service options as more populated regions of the country.
Chairman Pai has bolstered the open internet with a modern framework for today's global communications networks and taken a hard look at outdated regulations that make no sense in today's information age.
Chairman Pai has called on industry to reimagine America's broadband maps to end the digital divide, and he has elevated public safety and led the push for Next Generation 911.
Chairman Pai gets out in the field and takes the time to get to know the front line workers – the men and women digging the trenches, pulling fiber and climbing poles in service of one goal: connecting more American's to the world's most modern, high-speed communications networks.
---
Darby McCarty, CEO and Chairman of the Board, Smithville Communications
Darby McCarty, and her parents before her, built Smithville Communications from the ground up by Hoosiers, for Hoosiers. She has grown Smithville into Indiana's largest independent telecommunications company – named a Top 100 National Broadband Company for an unprecedented 11 years in a row.
Today, Smithville is home to Indiana's fastest internet service and is expanding its footprint by deploying fiber to key Rice Belt communities in Arkansas.
While Smithville is locally-owned, Darby is nationally recognized. She is a respected voice at USTelecom. As Secretary of USTelecom's Board of Directors (and past Leadership Committee Chair) Darby's insights are central to shaping the association's vision for our connected future.
Darby's connection to community goes far beyond business. Smithville employs nearly 200 Hoosiers and invests in community projects, large and small. This commitment has been at the core of the company since it was created in 1922 to connect three limestone quarries in Smithville, Ellettsville and Clear Creek. That quarry provided limestone for our great American monuments like the memorials found in Washington, DC. Like that quarry, Smithville and Darby always have, and will always be, part of the bedrock of America's heartland, values, innovation, service and community.
---
Rob Koester, VP of Consumer Product Management, Consolidated Communications
Rob Koester is a veteran industry professional leading Consolidated Communication's commitment to expand and improve broadband across the company's 23 state service area.
Understanding reliable, high-speed internet connections are key to communities, small businesses and young people reaping the full benefits of our connected digital economy, Rob continues to deliver high-speed broadband to customers.
Under Rob's leadership, Consolidated has forged public private partnerships to deliver and upgrade broadband services to more than 500,000 homes and small businesses, helping narrow the digital divide across the northeast corridor where Consolidated is also upgrading networks in unserved or underserved rural communities.
Through his leadership on these and other projects, Rob Koester has improved and extended broadband infrastructure to benefit individuals, businesses and communities across Consolidated Communication's nationwide service area and is a 2019 USTelecom Broadband Hero.