September 22, 2021
Download:
Broadband Industry Keeps Up High Pace of Investing
Despite Pandemic, Investment Pays off for Consumers with Resilient, Improved Networks at Lower Prices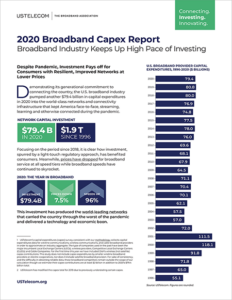 Demonstrating its generational commitment to connecting the country, the U.S. broadband industry pumped another $79.4 billion in 2020 into the world-class networks and connectivity infrastructure that kept America zooming, streaming, learning and otherwise connected during the pandemic.
2020: Broadband Providers Pump Another $79.4 Billion Into America's Connectivity Infrastructure
Focusing on the period since 2018, it is clear how investment, spurred by a light-touch regulatory approach, has benefited consumers. Meanwhile, prices have dropped for broadband service at all speed tiers while broadband speeds have continued to skyrocket.
This investment has produced the world-leading networks that carried the country through the worst of the pandemic and delivered a technology and economic boon.